Luxury – cut crystal glasses. This product was made in a very limited quantity. It is ground on a master-grinder carefully selected raw material from the glassworks, where it was blown by hand. At first glance, even a layman will not miss the greater depth of cut, the softness and luster of cut crystal, compared to a conventional cut glass product. The production of this master piece took much longer time than is common with products from the category of so-called cut crystal. More
Luxury cut crystal products are of course exclusively handmade (as are all products in our cut crystal category), but also with great attention to detail and quality of cut. The products in this category are selected according to strict criteria and thus not according to their high price from the manufacturers, but especially for their at first sight visible higher quality of cut, which must meet the strictest requirements for craftsmanship in cutting, polishing, raw material, etc. This exclusive cut crystal of impeccable beauty and extraordinary brilliance is produced in very limited editions and a large number were even produced in only one piece, making it impossible to purchase a second piece in the world. Our aim is to offer the discerning customer a valuable product of exquisite quality.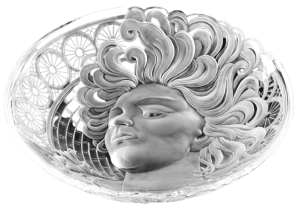 Glass cutting:
Cutting glass with rich decor is a traditional handcrafted technique of decorative glass refinement. Cut glass is used as a decorative technique for decorating vases, bowls, flat trays, decanters, bottles, baskets, table drinking glass and other shapes of practical use.
Glass engraving:
It is practically cutting into the surface of a glass object. From a sampling of glass and individual cuts, the final image is composed and "modelled". Like a painter's brush, a sculptor's chisel or a printmaker's chisel, the engraver's tools are rotating wheels, most commonly copper, carborundum, electrite and diamond wheels. As the engraver works, he applies a thin layer of emulsion of emery powder and kerosene, pure kerosene or water to their circumference, forming a cutting wheel that can remove the hard mass of the glass and leave the necessary matte mark on it.